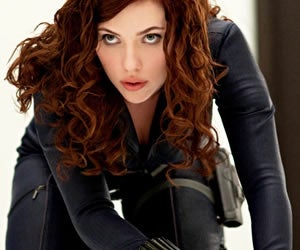 Want to be one of the first people to see Iron Man 2, meet Scarlet Johansson and indulge your charity benefactor side while you're at it? eBay and cinema's new Black Widow are offering a way to make it happen.
Johansson is auctioning off the chance for you and a friend to attend next May's LA premiere for Iron Man 2, meet Johansson herself and also "receive a free glam session" at upscale LA salon Christophe, with proceeds from the auction going to Oxfam America. The actress, herself an Oxfam Ambassador, explained in a statement,
I'm so thrilled to be a part of this eBay charity opportunity, again raising funds for Oxfam. Oxfam is an incredibly worthy organization that I'm most passionate about.
While that doesn't sound like something a sexy Russian superspy would say, we're holding out hope that she's just working undercover. The auction runs until September 24th.
Meet Scarlett Johansson at the premiere of Iron Man 2 [eBay]