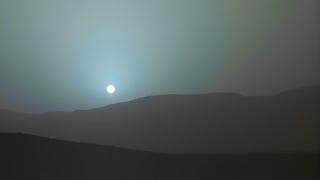 We've seen photos of Martian sunsets before, but nothing quite as spectacular as these.
Photo credits: NASA / JPL-Caltech / MSSS / Damia Bouic (republished at io9 with permission)
Long before Curiosity landed on Mars, the prospect of color photos made me dream. I imagined the wonderful pictures we'd get of Martian sunsets and sunrises. They finally arrived on April 15, 2015 — a three year wait. We waited that long before the team in charge of the mission dared to point Curiosity's powerful MASTCAM towards a sunset. And I have to say, the new images are gorgeous!
Theses images came in black and white, with a Bayer matrix. I had to process them through Gimp and G'MIC in order to rebuild the colors. A little processing in Pixelmator alowed me to remove ugly white stripes due to pixel overloading. A little bit of denoising to remove Bayer matrix artifacts, et voilà!
This article originally appeared at Chez Damia Bouic and is republished here with permission.