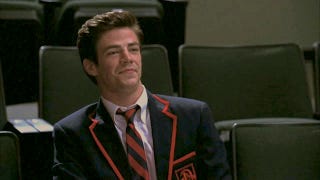 Grant Gustin is going from Dalton Academy Warbler to Fastest Man Alive. Gustin has been cast as Barry Allen in the upcoming season of Arrow—with an eye toward spinning him off into his own series. Arrow spoilers below.
According to the Hollywood Reporter, Gustin, who played Sebastian Smythe on Glee, will appear in the eighth, ninth, and 20th episodes of Arrow's second season, and the latter will serve as a backdoor pilot for a potential Flash television series. We will first see Barry Allen as an ordinary forensic scientist in Starling City, but that 20th episode will take us farther into the world of the Flash:
"Part of the fun for the audience … is to see how we view our Arrow take on the Flash legacy," [Arrow co-creator Andrew] Kreisberg said. "Some of it will feel very familiar to DC Comics, some of it hopefully will feel different, fresh and exciting. The same way we approached Arrow is the same way we're approaching Barry."
During Comic-Con, Arrow star Stephen Amell teased that we'd see the DC universe built up on television long before we'd see it in the movies, and this certainly looks like a big step in that direction.
'Glee' Star Set as CW's Flash [THR via /Film]