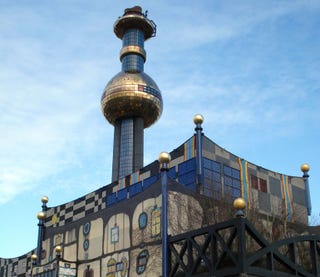 Garbage disposal factories are the unsung heroes of the giant machine world. With everybody excited about Pixar's upcoming garbage robot flick Wall-E, it's time to meet some real-life garbage machines. Some are glistening high tech towers, like this waste disposal/power plant in Vienna. Others are surprisingly low-tech. Check out our gallery of fantastic and grossomatic waste disposal factories — and the workers who tend them — from around the world.
In Salaise-sur-Sanne, southern France, the Tredi factory is packed with high tech purification systems that handle extreme toxic cleanups like the one in 2006 in Ivory Coast that involved 6,000 tons of toxic waste and killed 10 people.
Where does all your waste plastic from bottles and wrappers and tupperware go? To this factory in Qingzhou City, Shandong Province, China. Tons of plastic gets melted down and converted into threads and grain-shaped pieces. The results are sold to factories as raw materials.
People help feed the garbage machines, too. Plastic straws are laid out in vast bales and piles to dry in Dhaka, Bangladesh. Once dried, they'll be shipped to a plastic recycling factory. Bangladesh has a near 100 percent recycling rate for its waste, and has one of the most efficient plastic recycling systems in the world.
Dealing with waste can be very low-tech and industrial. In Ghana, workers turn waste into fuel for the local palm oil plant. Here you can see them scooping it into a steam-driven machine that powers the factory.
The lowest-tech waste disposal job falls to these Palestinian workers, who use sledgehammers to break up the remains of a bombed factory. The cement and metals will be recycled.
Images via Getty.