While we're waiting for the Ghostbusters to return to the big screen, a group of artists have dragged our favorite ghost hunting foursome back into the spotlight with a Proton Pack-powered gallery show.
On the agenda for pop-culture-meets-fine-arts outlet Gallery 1988 is "Ghostbusters, Goonies, and Gremlins," a group show that pays tribute to the three classic '80s films. From these samples, it looks like Ghostbusters fans can expect some witty works and plenty of Slimer.
Many of these images are via /Film.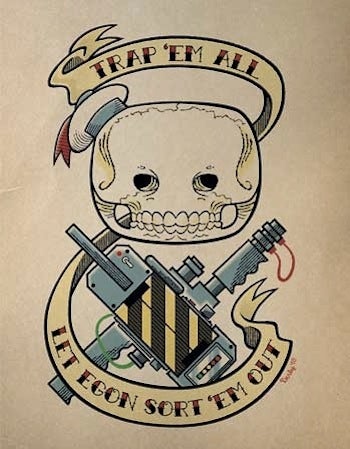 Trap 'Em All, Let Egon Sort 'Em Out by Scott Derby

Technology is Racing by J. Gray

ghostbusters by Andy Ristaino

Plush Slimer by Ashley Long

Ray, When Someone Asks if You are A God… by Kim Herbst

Coffee Break by Pat Kinsella

Ghostbusters Paranormal Centre NYC Subway Station by Brandon Schaefer

From Adventure, Horror, and Science Fiction by Oliver Akuin