Last week, Bruce Campbell announced that Army of Darkness 2 was in the works, but the internet — having heard so many rumors about a sequel for so many years — dared not to let themselves get too excited. But now the Evil Dead's remake director Fede Alvarez has announced that Sam Raimi will be helming the long-awaited sequel!
Alvarez tweeted the news in response to a question asked of him; certainly, until an official announcement is made, there's no guarantee the sequel will actually get made. But still, I believe this is the first time that Bruce Campbell and Sam Raimi have been on the same page about Army of Darkness 2 at the same time, and I don't know why Alvarez would state so unequivocally that Raimi was returning unless he knew something (and presumably from Raimi himself, since they're still working together while Alvarez plans the Evil Dead remake's sequel).
Seriously, my hopes are officially up. Please don't be fucking with us, universe.
G/O Media may get a commission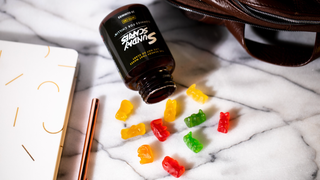 10mg CBD Gummies (22-Count)
[Via Deadline]