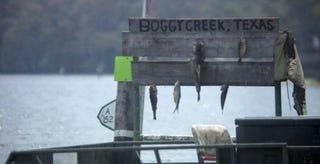 Are you sick of Bigfoot's genital fixations? We all are. That's why you need to see this awesome trailer for the remake of 70s Bigfoot classic The Legend Of Boggy Creek.
Director Brian T. Jaynes told Dread Central:
It's a thriller that centers around a story of five young kids who get caught out in a swamp in Boggy Creek, Texas. They end up crossing paths with an ancient evil creature that lives in the swamp. We're kind of combining [Bigfoot legends] with some ancient Caddo Indian mysticism and mythology. We took a little creative license with it and painted our own version of Sasquatch.
The original Boggy Creek, released in 1972, is a cult flick set in Arkansas, probably best known for being one of the earliest movies to do the Blair Witch fake documentary thing with a scary monster and college students. Seems like the update has left the pseudo-documentary style behind and preserves only the spirit of Bigfoot from the original.
(Thanks Avery Kaijuphile Battles!)