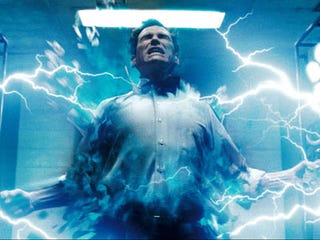 Mega-classic graphic novel Watchmen sounds sort of like a soap opera when you try to explain it to mainstream people. That's the lesson I've learned from reading Entertainment Weekly's first big article about Zack Snyder's movie adaptation. Sally's mom forced her into the spandex life! She's trapped in a dead-end relationship with the blue guy, but she's helping Nite Owl fly his freak flag by having an affair with him! It makes me wonder if there's any better way to promote a movie based on the most famously "grown up" graphic novel. Click through for new pics from Watchmen, Dollhouse, Fringe and more.
Here's what I gleaned from EW's Watchmen coverage: it's a version of the Justice League, where "Superman doesn't care about humanity, Batman can't get it up, and the bad guy wants world peace." Also, it's R-rated and not your average superhero film. Dr. Manhattan is blue and buck naked. It's set in a messed-up world where superheroes are outlawed, and one of them gets murdered. Is it a serial killer or a conspiracy? The psychopathic Rorschach is determined to find out.
Snyder sort of gently mocks most superhero movies, saying films like The Hulk are hard to take seriously, and he wants Watchmen to prove superhero movies aren't "stupid popcorn bullshit." He's fighting with the studio to keep lots of stuff in, saying he might as well make romantic comedies otherwise. (He wants three hours, the studio wants two hours, 25 minutes.) "Will Watchmen be the end of superhero movies? Probably not," he says. "But it sure will kick them in the gut."
Also, the credits sequence that recaps the history of the superheroes in the Watchmen universe is set to the tune of Bob Dylan's "The Times They Are A-Changin'." And, somewhat alarmingly, Snyder has added some new "provocative bits" - including a subplot about alternative fuels.