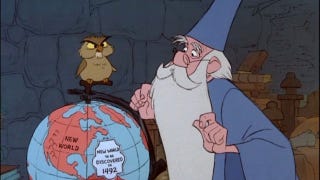 Hold your horses, fans of BBC One's Merlin; this is an entirely different Merlin-related project. Game of Thrones writer Dave Hill and Hanna screenwriter David Farr are teaming up to script a Merlin project for Warner Bros.
Variety reports the team-up but doesn't specify exactly what the project is. Screen Rant notes that Warner Bros. optioned T. A. Barron's young adult book series The Lost Years of Merlin in 2011, so it's possible that is what's in store. Regardless, we're excited to see what this particular writing combo brings to the world of Arthurian legend.
Edit: Variety identifies Dave Hill as a Game of Thrones writer, saying that he worked his way up from his role as the producers' assistant. He hasn't been credited on the series as a writer.
'Game of Thrones,' 'Hanna' Scribes to Co-Write 'Merlin' for WB [via Screen Rant]