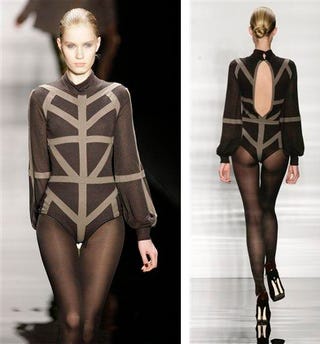 Fashion week is sweeping Europe, and the main benefit to you is a chance to see how ninjas of the future have become part of today's haute couture.
This model spent part of Berlin's fashion week dressed in an outfit from Marcel Ostertag that looks like it's cyber-robbery ready. She's got the skin-tight black outwear preferred by all the fashion-forward ninjas, plus a built-in harness thing that can be attached to a cloaked crane that will lower her into a cyber-vault. Honestly, can you really think of a better explanation for this outfit?



A more comprehensible and down-to-earth bit of ninja fashion comes to us via Fashionably Geek: the Naruto Shuriken bag, or ninja throwing-star bag. You can keep all your mobile devices and a book in this deadly felt tote. Created by Great Eastern Entertainment, you can order them through Import Now right here for $30.
Fashion Week AP Photo by Markus Schreiber