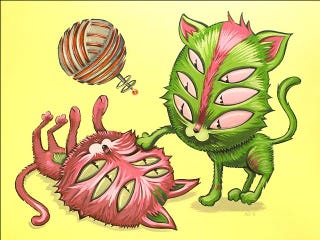 Do six eyes make cats better at playing with nano-fiber yarn? That's just one of the important questions raised by a new exhibition of space-themed artworks that opened last night. Prepare for cuteness!
The above dose of feline awesomeness is Spacium Felium Domestica by artist Alan Defibaugh, and it's just one of the exhibits in the Countdown to Yuri's Night exhibition that opened last night in Arlington, VA. The exhibition runs through April 30 at the MEZZ Gallery of Artisphere. Here's the description:
18 artists exhibit work centered on the theme of Man's journey into space. Exploring both science-fact and science-fiction, these artists deliver unique perspectives on the cosmos.
So why are they counting down to Yuri's Night? That's on April 9 — it's DC's annual "Cosmonaughty Art Exhibit, Variety Show and Dance Party," commemorating 50 years of human space flight. More pics, and details about the party, are at the link. Here are some more of our favorites. [Out Of This World Party, thanks Steve!]
Liberty Leading the People by Scott Brooks

Interplanet Janet by Scott G. Brooks

Do Nothing I Cannot Defend by Chris Bishop

Yep, That'll Work by Todd Gardner