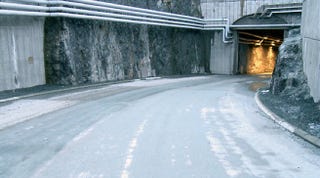 Curious about Uranium mining or the biological ramifications of nuclear pollution? Here's an assortment of enlightening documentaries that will fill you in on sundry nuclear topics (and some of them can be watched online).
Into Eternity
This 2009 documentary takes a look at Finland's underground Onkalo nuclear storage facility (above) and the precautions the Finnish government must take to secure the waste for a long 100,000 years. Director Michael Madsen shoots the facility as the ultimate science fiction fortress, filled with sterile halls and craggy caverns. Here's the trailer, and you can read more about the film here.
The Battle of Chernobyl
This film (which aired on Discovery) recounts in-depth the catastrophic events of April 26 1986 and how a seemingly routine test led to a radioactive plume covering large swaths of Eastern Europe. There's also Maryann DeLeo's Oscar-winning 2003 documentary Chernobyl Heart, which examines the birth and cardiac defects found in children who grew up in the plume's path. Leo would revisit Chernobyl in 2008 with her documentary White Horse, which followed a Pripyat man who went back to his home for the first time in 20 years.
Uranium: Is It A Country?
This 2009 documentary visits the Uranium mining industry in Australia, one of the largest Uranium-producing nations on the planet. If you've ever wondered how Uranium goes from ore to fuel rod, this documentary can guide you through the vagaries of the process.

The Atomic Cafe
And now, for something completely different. While not about nuclear power per se, this 1982 film lampoons America's atomic culture by stringing together old newsreels and archival footage. The result is a narration-less video collage that elucidates the weirdness and absurdity of the 20th century's nuclear zeitgeist. It's a self-aware send-up of films like Duck and Cover .
Photo via Technoccult.