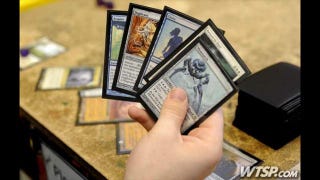 In August, one of Pensacola, Florida's most devoted Magic players was killed by two brothers who stole his $100,000 collection of cards and sold them throughout the southeast region. Sean Dugas, a longtime member of the Magic card playing community, was beaten to death in his home. Now, the alleged murderers have been identified.
William Cormier, 31, is accused of beating Dugas to death Aug. 27 at his home in Pensacola.Dugas' cards, valued at somewhere between $25,000 and $100,000, ultimately were sold in Pensacola, Georgia and Tennessee, police said. Dugas' body was taken to Winder, Ga., where it was found Oct. 8, buried in a plastic container in the backyard of a home. Now held in Georgia, William Cormier and his twin brother, Christopher, will be returned to Pensacola to face charges in the homicide.
Basically, geek treasures are now on par with jewelry and cars when it comes to violent robbery.