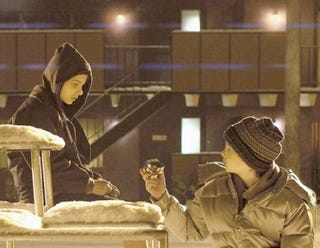 Fans of Let The Right One In, the cult foreign hit about a soft-spoken yet deadly vampire child, have been torn in half over Matt Reeves' American remake. But the first pictures seem to suggest he's got the right idea.
In an interview with the L.A. Times, Reeves, who directed Cloverfield, discussed how he's well aware of the concerns surrounding his film, and tried his best to calm them.
"I think because of 'Cloverfield,' people have an assumption, which is, 'Oh, crazy handicam, he's going to jazz it up,' " Reeves said. "And I think that's probably what a lot of people were afraid of when they thought of the most cynical version. And that's the last thing we tried to do. We tried to create the approaching, foreboding dread of movies like 'The Shining,' where you feel like something wicked is unraveling and it's not going to end well. That's what I responded to about the original, the juxtaposition of those tones, this very disturbing story but at the center of it there are these very tender emotions. That's a very unusual mix, and that's what drew me in and dug into me."
Fair enough. Two pictures from the production have also been released of Chloe Moretz, the much-loved Hit Girl, as vampire Abby. What do you think?
For a better look at the top picture check out LA Times.
For a better look at the top picture, check out LA Times.