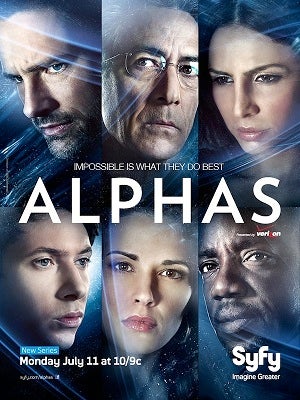 Apparently, Syfy's Alphas is about six people with impossibly nice skin and staring eyes, who keep having scary blue swooshes of glowy light zapping around their faces all the time. At least, that's what we're getting from this promo art.
This is your first piece of promo art for the Syfy show about five people with mental powers who work for a secret government agency. In the top center is David Straithairn, who plays Dr. Lee Rosen, the group's leader/psychologist. According to TV Line, which premiered the image:
In addition to Strathairn (Temple Grandin, Good Night, and Good Luck), the cast includes (clockwise from top right) Azita Ghanizada (Castle), Malik Yoba (New York Undercover), Laura Mennell (Watchmen), Ryan Cartwright (Bones) and Warren Christie (October Road).
Alphas launches July 11 on Syfy. Check out a bigger version of the image at the link. [TV Line]