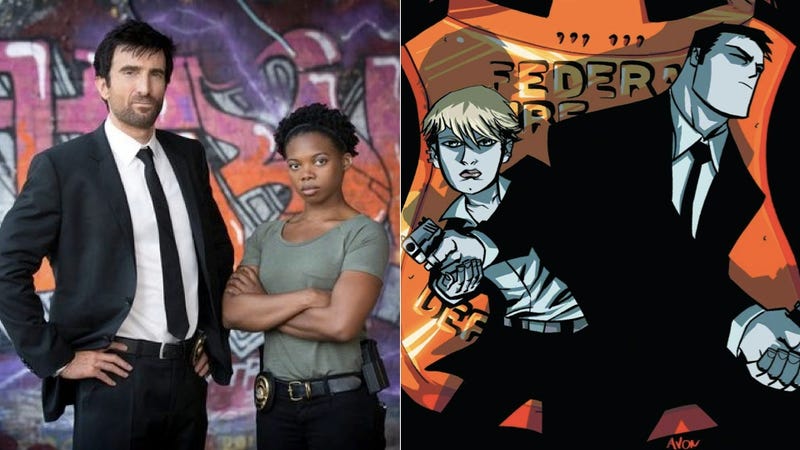 The first photo of Sharlto Copley and Susan Hayward as Christian Walker and Deena Pilgrim in Sony's live-action Powers adaptation has arrived! You may notice that neither of them look even slightly like their original comic counterparts. Who cares? Not co-creator Brian Michaal Bendis, that's for sure.
The author told USA Today that the TV show will be a "different experience" from the comic. "My dream was for the show and the books to almost run in parallel universes as they explore the same themes," he says.
In that vein, Copley is a very different version of Walker, the ex-superhero detective investigating crimes committed by those with superpowers. Apparently Copley's version is less "stoic" and more "uptempo" — meanwhile, according to writer/producer Charlie Huston, Heyward is a pitch-perfect Deena, Walker's new partner in the "Powers" division. "[Heyward] is this amazing fireball," Huston told USA Today. "You do 12-hour days and it's getting into 10 p.m. and... Susan is down at the end of the ramp doing jujitsu kicks, spinning around and ready to go."
Bendis and Huston describe a few other changes the show has in-store for the adaptation over at USA Today here, but that doesn't mean Powers fans will fail to recognize the story. "We're getting the best of both worlds," Bendis says. "We're getting a network-budgeted show, and we're getting to dive in as dark and deep as we want to go."