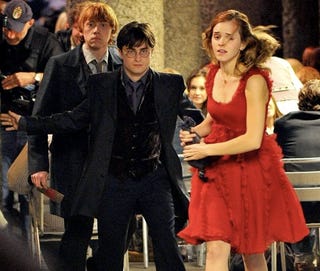 Potter fanatics all know the big surprise epilogue in Harry Potter and The Deathly Hallows reveals quite a bit about our favorite Hogwarts students. See how the actors changed to capture what happens in the novel. Spoilers ahead.
The very end of Deathly Hallows has a flash forward about 19 years into the Potter kids' futures. Using makeup, this is how they aged the young stars...
Wow that's a hard 37-ish Harry. As you can see, Ginny and Harry finally made it through together and they've got a pair of adorable little tykes.
For bigger high res versions of the pics check out oclumencia.
[via Cinemablend