Morning Spoilers
If there's news about upcoming movies and television you're not supposed to know, you'll find it in here.
An unlikely source turns up the first photo of Henry Cavill as Clark Kent in Batman v. Superman. Rumors swirl around who Carrie Fisher's daughter is playing in Star Wars. Find out more about Doctor Who season eight's final two-parter. Plus a Planet of the Apes featurette and Sin City photos. Spoilers now!
Top image: Man of Steel
Star Wars
The rumor that Carrie Fisher's daughter Billie Lourd has joined the cast is still going. And now, we've got the accompanying rumors about who she'll actually play. The Daily Mail has a source claiming that Lourd will play a younger Princess Leia during the New Hope era, adding "'She will even have her hair tied up in Princess Leia-style buns." And, in a similar vein, the TV show Good Morning Britain went with Lourd playing Leia's daughter. As always, it's just as equally likely to be speculation as the truth. [Slashfilm]
Kevin Smith visited the set and instagrammed a picture of his teary face, adding:
Visited JJ and his EP VII set. I signed the NDA so all I can share are this old Bantha-Tracks subscriber's tears and snotty nose of joy. The Force is WITH this movie. Holy Sith...
G/O Media may get a commission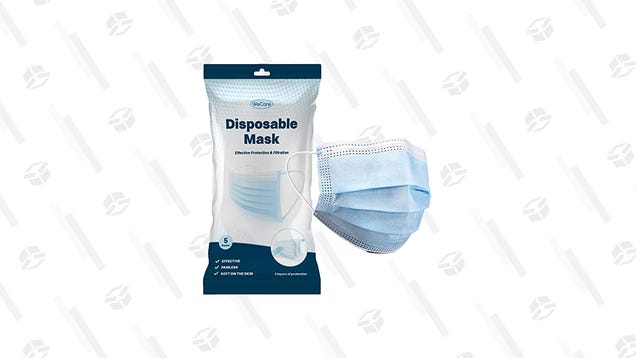 WeCare Disposable Masks With Elastic Earloops- 5 Pack
[via Giant Freaking Robot]
---
Guardians of the Galaxy
If you were wondering why Zoe Saldana so often finds herself in science fiction roles, and what appeals to her about playing Gamora in particular, she explains:
I don't have to subject myself to just being the love interest or playing a character that doesn't feel relevant to the story or playing a woman that doesn't feel like an actual depiction of a real woman.

When I read films in space and I'm working with these kinds of filmmakers there's a neutral sense to the way they develop characters. It makes me feel very significant, very relevant and very excited.
[Yahoo!]
Here's an international poster, and the cover art for the soundtrack. [Coming Soon]
---
Batman v. Superman: Dawn of Justice
The Royal Marine Charitable Trust Fund, a UK organization that Henry Cavill serves as an ambassador for, revealed a photo of Cavill, on set, in costume as Clark Kent:
The reason the organization has this photo is because Cavill is holding a shirt he's signed as part of a giveaway for the The Royal Marines 1664 Challenge, where "Royal Marines Commandos will ski, sail, cycle, canoe and run 6656km" in order to capture the "Commando spirit and Corps values." [Magic 987]
There's been activity in Metamora Township, MI, where residents have seen all sorts of trucks from Haddad's, Crown City Pictures, Midwest Lighting & Grip, and Detroit Power & Light. According to a resident, they'd been told that there would be filming in the area in February, but he didn't think it actually happened. Instead, they were warned about an increase of traffic this week for an "equipment test." See some of the photos of the trucks below, the rest at the link. [Mlive]
---
Exodus
It might seem a tall order to play Moses, but says Christian Bale:
He's one of the most fascinating characters that I've ever studied. I think Achilles is described as the most passionate man alive but I think Moses would give him a very good run for his money.
Joel Edgerton puts any success he has as Ramses squarely on director Ridley Scott's shoulders, saying, "When Ridley first called me I have to admit I was like, 'Really, me—Pharaoh of Egypt?' But he made it work." He also discussed the way he and Bale are approach their characters' relationship:
There's a deep connection between the two of us. It becomes a really complicated relationship that starts with a lot of love and companionship and ends with destruction.
See more photos from the film at the link. [Entertainment Weekly]
---
Dawn of the Planet of the Apes
Here's a behind-the-scenes featurette:
---
Sin City: A Dame to Kill For
Here are two new photos. [Coming Soon]
---
Doctor Who
We now know a bit more about the penultimate episode of the season (which may be the first part of a two-parter). The BBC had already announced that Michelle Gomez will be playing a character called the "Gatekeeper of the Nethersphere" and that her character will meet the Cybermen. But now set reports from filming tell us a little more about the episode, tentatively titled "Death In Heaven." For example, a script page was sighted which has Gomez's character referred to as "Missy." Over on Observation Deck, bluehinter has pieced together a fairly comprehensive description of the scene shot in Cardiff's city centre:
The scene, set outside St. Pauls, involves The Doctor talking to the "Missy" character, who has possibly just been arrested by UNIT. According to "Missy," the dead are "coming back all shiny and new," and "within 24 hours the human race will cease to exist."

Meanwhile, Kate Stewart is pacing back and forth, talking to someone on her cell phone saying "Alien incursion confirmed, [something] 12 - 12 -12" and to "Tell Geneva the [something or other] protocols are active" and warn the president than an invasion is imminent (or something to that effect.)

There then appears to be some sort of visual effect happening (cued by the director shouting "bang" several times), likely loads of Cybermen teleporting in, and the armored UNIT troopers, plus a number of plain-clothed individuals all draw guns and look about. The Doctor shouts something, and the soldiers and civilians with guns look up and point their guns skywards. There are flashes of light, and the Doctor, Kate and Osgood start looking around where the light is.

The Missy character is held by UNIT guards and The Doctor begins speaking to her, saying "tell me more..." She shakes off the guards, and they raise their guns threateningly. She moves towards The Doctor and speaks to him, touching his lapels and his jacket. One of the uniformed UNIT guards breaks out some sort of new-fangled stun dart gun, shooting her in the neck, and she collapses to her knees, saying "Ooh, that's new."

The Doctor is understandably peeved about this, shouting "No, no! I need her awake!" He begins talking to Kate Stewart, and says something like "There are Cybermen all over the world." Kate says something back to him, and he replies "Shush now, I'm trying to count!" quite aggressively, whilst looking up into he sky. Osgood says "Eighty seven" and he looks at her.

He then says something about St. Paul's (possibly a reference to The Invasion) while Kate Stewart is back on her phone saying "Protocol something-or-other." The Doctor is about to rush off, and one of the soldiers walks up behind him and stuns him in the same way as Missy. As he's collapsing, he says "Stupid, stupid!" calls out for Clara, and then whispers something to Osgood before he passes out.

Also, at some point, Kate Stewart confronts the Cybermen, possibly claiming to be the representative of Earth and/or UNIT, and throws down a damaged 'Invasion' style Cyberman head as proof she means business. Now that's a UNIT leader with balls!
See video and more photos at the link. [Observation Deck]
---
Preacher
Seth Rogan tweeted a photo of the first storyboard for the Preacher TV series he and Evan Goldberg have been hired to write for AMC:
Based on this, it looks like they're going with the origin for the pilot, with "Intro Genesis" referencing the spirit which possesses Jesse Custer. And the "Daily Breakfast, Jesse w/" could refer to the opening scene of the comic's first issue, with Custer, his girlfriend Tulip and Cassidy. [Coming Soon]
---
Gotham
TV Line's first impression of Gotham is fairly solid, saying:
The pilot evokes a mildly Nolan-esque atmosphere that's gray and removed in time (cops carry cell phones yet drive 1970s sedans) yet of course built on a TV budget. Yes, young Bruce Wayne is here, and the way he is folded into the bigger picture — Gordon vows to find who killed [his parents] — sets up a mystery that portends to loom large. The cast is solid: Bullock seems tailor-made for Logue, Pertwee promises a fresh/fiercer wrinkle on Alfred and the nascent nemeses all are rife with potential, while McKenzie's challenge is to give us a noble cop who is at least partly as compelling as the colorful criminals circling him.
[TV Line]
---
The Leftovers
Filming for the last episode of the season took place in and around a Best Western and West Gate Cocktail Lounge in Nyack, NY. See video at the link. [News 12 Westchester]
---
The Strain
Here's the official description of episode 1.03:
Episode 3 / Production #103 – "Gone Smooth"

(Airs July 27, 10:00 pm e/p)

Eph and Nora fight to save Captain Redfern's life before coming face-to-face with the horrifying effects of the virus. A spike in rat attacks signals Fet that something inexplicable is happening deep below the city. Released from jail, Setrakian begins his own merciless plan to stop the spread of the disease.

Teleplay by Chuck Hogan; directed by David Semel.
---
The Walking Dead
Here's a little bit of video from the set of season 5:
---
Teen Wolf
Here's a sneak peek at episode 4.03, "Muted." [via SpoilerTV]
---
Hemlock Grove
Here's the description of season 2:
Season two continues with the town coming to grips with the shocking massacre incurred by one of its deadliest creatures. Roman and Peter are now faced with new responsibilities and the realities that come with adulthood. Roman's relationship with his mother, Olivia, is all but dead as he struggles with his unwanted Upir birthright and the disappearance of his sister, Shelley. Peter moves in with Destiny and is forced to get a job after his mother is sent away. Meanwhile, in search of a new life, newcomer Miranda Cates, embarks on Hemlock Grove with an unknowingly profound effect on Peter and Roman. And Norman, still reeling from the loss of his family, must face the harsh truths that are uncovered about those he still loves.

The Eli Roth thriller stars Famke Janssen, Bill Skarsgård, Landon Liboiron, Dougray Scott, Joel de la Fuente and Tiio Horn. The series welcomes newcomers Madeline Brewer ("Orange is the New Black") and Madeleine Martin ("Californication"), along with new showrunner/executive producer Charles "Chic" Eglee ("The Walking Dead," "Dexter").
And go here for character posters. [Coming Soon]
---
Under the Dome
Here's the description for next week's "Infestation":
BARBIE RISKS HIS LIFE WHEN AN INFESTATION JEOPARDIZES THE CHESTER'S MILL FOOD SUPPLY, ON "UNDER THE DOME," MONDAY, JULY 7

"Infestation" - Barbie risks his life to help Rebecca save the Chester's Mill food supply when she discovers an infestation of butterfly eggs on the town's crops, on UNDER THE DOME, Monday, July 7 (10:00-11:00 PM, ET/PT) on the CBS Television Network.

SERIES REGULARS: Mike Vogel (Dale "Barbie" Barbara), Rachelle Lefevre (Julia Shumway), Dean Norris (James "Big Jim" Rennie), Eddie Cahill (Sam Verdreaux), Alexander Koch (Junior Rennie), Nicholas Strong (Phil Bushey), Colin Ford (Joe McAlister), Mackenzie Lintz (Norrie Calvert-Hill), Karla Crome (Rebecca Pine), Natalie Martinez (Deputy Linda Esquivel), Britt Robertson (Angie McAlister)

RECURRING CAST: Grace Victoria Cox (Melanie Cross), Dale Raoul (Andrea)

GUEST CAST: Matt McHugh (Farmer Killian)

WRITTEN BY: Kelly Souders and Brian Peterson

DIRECTED BY: Ernest Dickerson
Additional reporting by Charlie Jane Anders and Madeleine Monson-Rosen