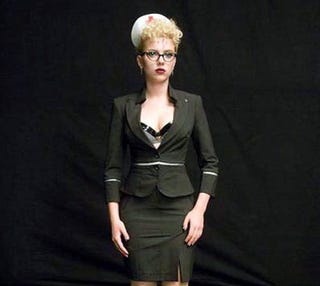 Frank Miller, the comic book auteur behind Dark Knight and Sin City, is directing his first film — an adaptation of 1940s newspaper comic The Spirit. Originally written by Will Eisner, the story features a detective dubbed the Spirit after he awakens from a state of suspended animation caused by a supervillain's experiments. Miller will be re-imagining Eisner's work, and you can see his fingerprints all over this design for the character of an evil secretary called Silken Floss, played by Scarlett Johansson.

Miller's dark designer's eye made the movie version of Sin City look like beautiful slag, and I can't wait to see what else he's got in store for us in The Spirit. The Eisner comic ended in the 1950s, right after the Spirit went to the moon. Let's hope the moon trip is in the film, because I'd love to see the Miller-ized version of Luna.


The Spirit is currently slated for release in January 2009.


Leaked pics of sexy Scarlett [Hollywood Newsroom]