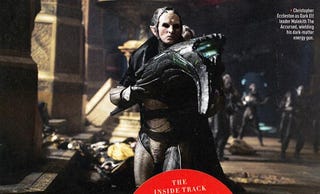 Behold the first official look at the villain from the Thor sequel, Christopher Eccleston. And if you thought the set pics of elf masks were just markers for better CG, get ready to be disappointed!
The latest issues of Empire Magazine has a handful of new pics, including shots of Malekith's and his evil elf people. Who are all really into masks. Here's another shot of his fellas:
So, what do you think? Hot or not?
[Redzilla via CinemaBlend]