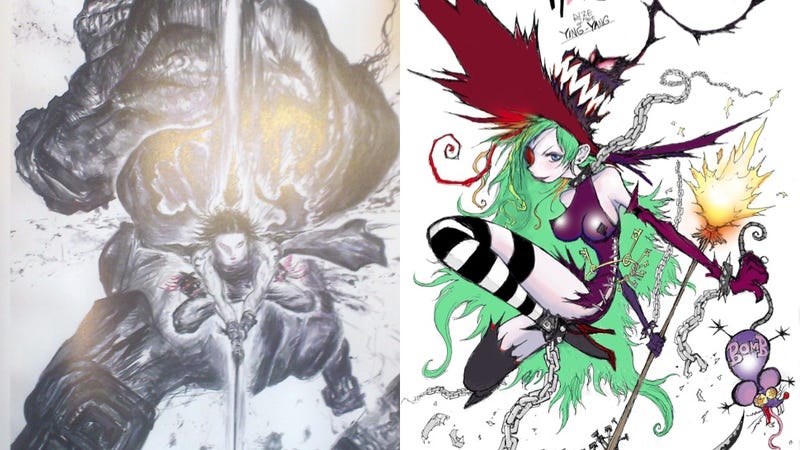 When most writers and artists are starting out, they don't have a chance to work with some of the greatest stars of anime and manga. Wikia can — and will — change that with Masters of Animanga, a collaborative project that allows Wikia members to write stories based on characters and art created by Lone Wolf and Cub's Kazuo Koike, Final Fantasy's Yoshitaka Amano, and more — and we have the first look!
The project, beginning on September 3rd on Wikia's Animanga Wiki, will focus on three themes: Vampire, Samurai and Girls. Each theme will receive character bios and inspirational art from Koike and Amano, as well as Afro Samurai's Takashi Okazaki and Return of the Jedi manga artist Shin-ichi Hiromoto, at which point users will generate a story based on them, one paragraph at a time. The stories, and the project itself, will be overseen by legendary anime producer Masao Maruyama (seriously, he's produced everything) and Space Battleship Yamato 2199 publicity producer Hiroaki Ikegami.
io9 is proud to debut the first art from all three Masters of Animanga themes! We also talked to Eric Moro, Wikia's Director of Entertainment Programming, about how the project came together, how it works, and what happens when the stories end.
Samurai image by Yoshitaka Amano.
Io9: Who first had the idea for Masters of Animanga?
Moro: "The Collaborative Writing Project" is an initiative that Wikia communities have participated in for months now. Our super-fans have come together to write original stories (one paragraph at-a-time) in the fantasy, sci-fi and kaiju genres. But never have we hosted a project involving professional creators (i.e., writers, artists, filmmakers, etc.) and their works.
On a business trip to Japan, we had arranged a meeting with Masao Maruyama, Kazuo Koike, and Hiroaki Ikegami to discuss exciting new ways for them to tap into that rabid fan base on Wikia. During that discussion, we originally [conceived of] the project with only these three creators involved. But they loved the idea so much, they took the initiative to extend its scope and invited Yoshitaka Amano, Shin-ichi Hiromoto and Takashi Okazaki to also participate.
Vampire CEO image by Takashi Okazaki.
Which artist is working on which theme?
The project breaks down as follows: Koike/Amano are attached to the Samurai genre; Hiromoto to Girls; and Okazaki to the Vampire genre. Each artist will be providing original character illustrations for their story, as well as brief written character bios/backgrounds. In the case of the Samurai genre, however, Amano will be providing the illustrations and Koike will be writing the bios/backgrounds.
How does a collaborative online writing project like work?
The participating artists will be providing exclusive, never-before-seen illustrations specifically for this project. That art, in conjunction with the written bios, will serve to inspire our participants and their storytelling. Aside from that, there will be no interference from the artists. They are allowing our community of writers to take the stories in whatever directions they'd like.
[During August], a couple of the artists will be providing tips and messages in the form of short videos to help mentor the fan community. You can check out Koike's "words of wisdom" here.
What exactly will Masao Maruyama and Hiroaki Ikegami be doing as overseers of the project?
As "executive producers" of this project, Masao Maruyama and Hiroaki Ikegami worked to assemble this amazing group of anime/manga legends. As you can imagine, each participating artist is extremely busy working on their own individual projects, so Maruyama and Ikegami are making sure that deadlines for this project are met, helping brainstorm and flush out the character ideas, providing feedback, etc.
What can you tell us about the three individual "stories" the artists' works will be inspiring?
Honestly, the illustrations and character bios/backgrounds are still being finalized, so I don't have much to tell you. We've gotten a glimpse of at least one character from each story genre [shown here! – Rob]. And Koike himself has revealed to the Wikia community the concept behind Kana, Mud and their battle over water. You can hear him explain it in his own words here.
How do you make sure only one paragraph gets added at a time and that they remain sequential?
As I mentioned earlier, Wikia's community has participated in this sort of "Collaborative Writing Project" before and they're very familiar and respectful of the rules. And as ardent fans of the medium and (many of them) aspiring professional writers in their own right, they take the project very seriously – insuring that only the highest quality contributions are made.
To help new users participating in the project, Wikia staff will be monitoring the story – checking its progression and making minor edits/rollbacks as needed to maintain the integrity of the narrative. And if a change is made, they will immediately communicate with the user informing them what was done and why, as well as answering any questions they may have.
Girls image by Shinichi Hiromoto.
Will all three themes be worked on simultaneously, or will people be writing one story at a time?
No, work will progress in a "one story at a time" fashion. While the exact order is still being worked out, the project will launch on Tuesday, Sept. 3rd and seven days will be dedicated to a story in one genre. On Wednesday, Sept. 11th, a new story in a new genre will launch. And on Thursday, Sept. 19th, the final story in the final genre will launch.
Is the project available in English only?
Submissions to the project are English only. However, there are plans to translate each finished story for international audiences.
Is there anything potential writers or artists need to know before they join in?
Participation is for registered Wikia users only. If they haven't already done so, interested participants must signup for an account here!
What are the plans for the stories and fan-submitted art once they're completed?
The sky's the limit here. In the short term, Wikia's plan is to debut the final stories and submitted art work in a live panel discussion at New York Comic-Con (October 10th-13th, 2013) where all of the participating "Masters" will be in attendance. This takes the legitimizing of "fan fiction" to a whole new level! At the same time, we'll be showcasing the finished stories on dedicated, designed landing pages for a slick and easy reading experience. There's also talk of the "Masters" possibly publishing the material down the road (if that were to happen, each participating user would receive a byline), but they're excited to see what the community comes up with first.
For more details, or to join in the storytelling itself come September 3rd, make sure to bookmark the Animanga Wiki.