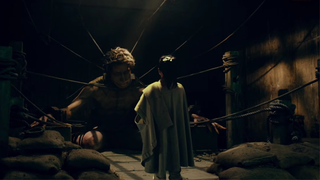 Which honestly isn't that surprising—considering that if this live-action TV series featured as much CGI Titan shenanigans as the upcoming movies did, it would probably be called Attack on Oh God Wait Stop Our Budget Can't Afford This.
Actually, that's not exactly true. While there's plenty of footage of Titans in the trailer for Attack on Titan: Counter Rockets, the vast majority of it actually comes from footage from the first in a series of live-action movies based on the smash-hit manga series by Hajime Isayama—which makes a lot of sense considering that Counter Rockets is set between the two films, the first of which premieres next week in Japan.
Counter Rockets, starring several members of the movie's cast (including Satomi Ishihara's Zoë Hanji, the slightly wacky Survey Corps member/Titan biology researcher), will fill in the gaps of the depressingly violent life of the Survey Corps team in the downtime between the two movies—which is presumably where the bulk of the action (and these poor men and women being munched on by the gigantic Titans) will actually take place.
The three-episode series will begin August 15th in Japan, running until 29th, ahead of the second Attack on Titan movie's premiere on September 19th—and at some point will presumably make it over to the West at some point, considering we're getting subtitled versions of the movies.
Between this and the goofy Junior-High-set anime spinoff announced this morning, this is probably just likely to make the wait for Attack on Titan's second season in 2016 a little harder for anime fans.
[Via CBR]