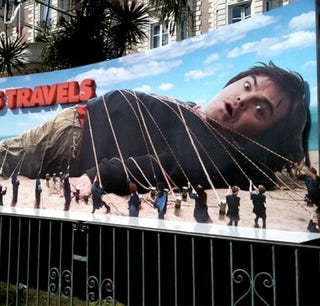 Images are starting to come in from Cannes film festival — including the first ever poster from the modern day Gulliver's Travels. Starring Jack Black. We're still not so sure how we feel about this one, plus Giant 3-D Spiders!
Empire Magazine posted images of the new Gulliver's Travels, which also stars Jason Segel, Emily Blunt and T.J. Miller. While we like the comic-heavy cast, anything with Jack Black in it makes us a little nervous.
In other Cannes news, the Giant Spiders In 3D is another popular movie poster popping up here and there. The film is from Nu Images, here's the summary and poster.
A new species of poisonous spider is discovered in the caves of Afghanistan and inadvertently makes its way to New York City where it mutates to gigantic proportions and wreaks havoc on the entire city.