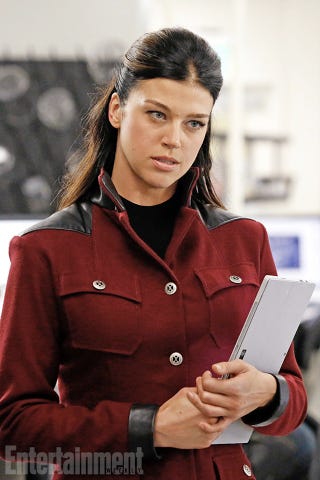 Bobbi Morse has been a SHIELD agent, an Avenger, and, most dangerously, Hawkeye's girlfriend. Now actress Adrianne Palicki will bring her life in Agents of SHIELD, and here's the first look — as well as a very surprising twist. Spoiler ahead!
Entertainment Weekly has the pic, and describe the character thusly:
Courtesy of ABC, here's your first look at Palicki as Bobbi Morse, the head of Hydra Security and the future Mockingbird. But will she be friend or foe to Coulson and S.H.I.E.L.D.? The Mockingbird part suggests friend, but the Hydra part…things might get complicated.
The head of Hydra's security? That's... different. Unless she's a SHIELD mole, which... is unlikely because SHIELD had no clue Hydra even existed until The Winter Soldier. I'm a little freaked out, but last night's Agents of SHIELD premiere was so good — and so much improved — that I'm exceedingly willing to give the show the benefit of the doubt here. We'll find out more on October 21st, when Mockingbird makes her live-action Marvel debut.
[Via The Mary Sue]