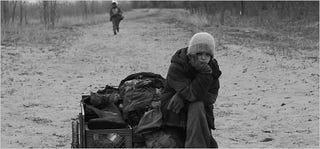 Just how bleak is the movie adaptation of Cormac McCarthy's post-apocalyptic novel The Road, which just finished filming? So grim that the crew would film on overcast, foggy days, and they removed every hint of greenery from the movie's locations. Click through for some new photos, and details on the movie's barren, cannibal-ridden landscape.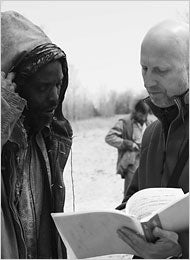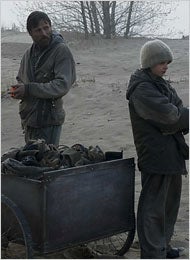 The Road is set in a burned America, ruined after an unknown disaster. A father (Viggo Mortensen) and son (Kodi Smit-McPhee) embark on a long journey to the coast. In addition to coping with the wrecked countryside, the pair are also stalked by a gang of cannibals. In a new piece, the New York Times describes the movie's look as monotone and bleak, "The sky is gray, the rivers are black, and color is just a memory. The landscape is covered in ash, with soot falling perpetually from the air. The cities are blasted and abandoned. The roads are littered with corpses either charred or melted, their dreams."
How close will the movie stay to the book? Screenwriter Joe Penhall only admitted to fleshing out the fathers flashbacks and memories with his wife (Charlize Theron). The NYT explained that while they couldn't include most of McCarthy's narrative, a lot of that feeling will come from the overall look of the movie and from the acting. The location was selected primarily due to its "post-apocalyptic scenery" including a dunes, deserted coalfields, a burned-down amusement park and an 8-minute stretch of bare highway.
Road's director John Hillcoat went to painstaking ends to recreate this novel in a realistic manner:
"What's moving and shocking about McCarthy's book is that it's so believable," Mr. Hillcoat said. "So what we wanted is a kind of heightened realism, as opposed to the 'Mad Max' thing, which is all about high concept and spectacle. We're trying to avoid the clichés of apocalypse and make this more like a natural disaster."
So sorry Doomsday and Mad Max fans, no mohawks and crazy face tattoos. The characters in The Road are a product of their circumstances and wear whatever they can find, while stuffing their clothes with garbage insulation.
The NYT follows Viggo Mortensen in one scene where he chases after a stranger (Michael Kenneth Williams) who stole his belongings. After catching up with that man, Mortensen takes everything he has and leaves him to freeze while his son pleads with him to forgive the old man. [New York Times and Awards Daily]