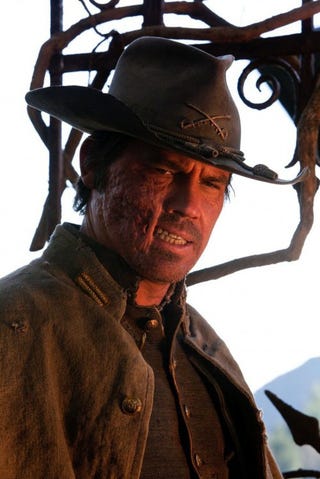 We're ultra excited about the comic book adaptation of Jonah Hex ever since we watched him barf up a crow at last year's Comic Con. And this is the first real look of the hard man with the tomahawk-burned face.
Here's a picture of Hex as shown in the comic book:
Notice that the actor playing Hex, Josh Brolin doesn't have the fully exposed eyeball, like in the comic. This is because Brolin almost lost his eye trying to recreate Hex's bug-eye in real life. The actor explained this to us back at SDCC:
"Then the eye thing, that was - I wasn't going to bring that up. Jonah Hex is a comic book, it's drawn. In reality if Jonah Hex had an eye like that, it would be a little raisin somewhere back in his brain, you know what I mean? We thought about [making a computer-generated eye], but we didn't have the money to CG and all that stuff, and we really didn't want to.

"I tried is, I pulled it down, and within an hour my eye started to get infected, before I realized I'm not that committed of an actor...that I was willing to lose [an eye]... actually, I fought for it, for a little while."
Jonah Hex will be in theaters June 18th.