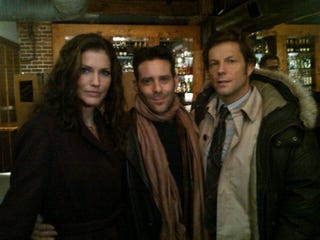 Mini Battlestar Galactica reunion! In between shooting scenes for Ron Moore's new supernatural cop drama the 17th Precinct, Tricia Helfer sent out a set photo with her old BSG castmates Jamie Bamber and James Callis.
Yesterday Helfer tweeted this set photo writing: "Here ya go #BSG peeps. 6, Baltar, Apollo. Aka Morgana, John, Caolan."
The 17th Precinct is set in the fictional town of Exelsior. The drama follows a team of mystical crime-fighting cops. Helfer plays Morgana a "necromancer" otherwise known as a coroner to the magically deceased. Callis is a homicide detective named John, and Bamber is a crime scene expert with the name Caolán Longstreet. It's just one of the many fantasy shows coming to TV. Fingers crossed Moore can hit this series out of the park as well.
Via SFX.