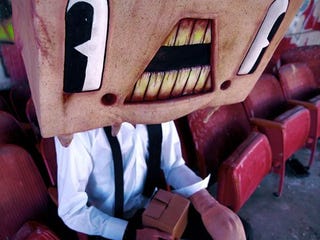 We've got an exclusive clip of the voice talent for Alex Pardee's Chadam recording their parts. Jeffrey Combs, Katey Sagal, and Carl Weathers all lend their vocal stylings to bring the eerie world to life.



Chadam Voice-Over Exclusive from io9 on Vimeo.

The trippy little web series, soon to have a home at the WB.com, is being created using Unreal Engine (which is responsible for such gorgeous video games as Bioshock). The story follows a blockheaded boy, Chadam, who has the glandular power to change the world with his super-imagination. The amazing Jeffrey Combs plays the evil villain, Viceroy. The creep-fest of delightfully spooky characters comes from the mind of Alex Pardee, and we can't wait to see more. Until then, this video, and a screenshot from the actual series, will have to do.