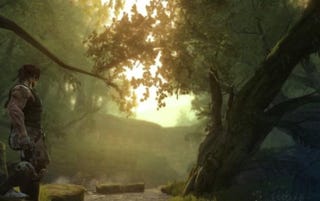 Who said that post-nuclear dystopias have to be dull and colorless? Previewing their upcoming Bionic Commando videogame here at Wondercon, Capcom representatives talked about the fact that the game will be much brighter than early previews had made it look.
We thought that if a city had been hit by a megaton bomb, it would be kind of dark and grey, but the fans wanted color and games should be pretty, so here you go.

The preview animations showed a game that mixed Terminator-esque destruction with Spider-Man-style dynamics, but Capcom reps want you to know that the game will be much better than any old webslinging:

We've been compared to Spider-Man, which is great, but the 3D swing mechanic on this game works really well, it takes swing mechanics to the next level.

While they couldn't announce a release date at the con, the platforms for the game were announced as Playstation 3, XBox 360 and high-end PCs.