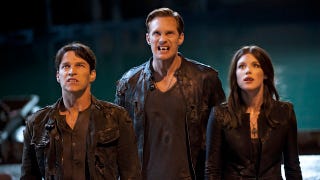 The weather is getting warmer and it's time for the vampires to come back out of their coffins. Tonight, we'll finally get some answers to the questions we've been asking since September. Want to chat about tonight's episode? You've come to the right place.
If you've forgotten where True Blood left off last season, get caught up with Meredith Woerner's recap of the fourth season finale. You won't have to wait much longer for the return her always hilarious Pro/Con recaps, but for now, let's open up the comment thread and talk about tonight's season premiere.
Top image from HBO.com.