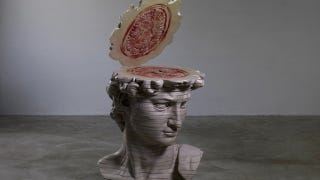 Artist Cao Hui likes to infuse inanimate objects with bits of human-like flesh, muscles, organs, and bone. In a recent series, Hui remakes classic sculptures with human anatomies beneath their stoney exteriors and cuts them up, shifting our eye from the outside of the sculpture to the red stuff inside.
Hui showed this piece, "If I Were," and others at a recent solo exhibition at PIFO Gallery in Beijing. His sliced resin pieces of the Venus de Milo and the head of the David are reminiscent of the Body Worlds exhibit and the Visible Human Project, but sometimes he creates sculptures that have to be arranged like jigsaw puzzles. They can be pushed together, or pulled apart, displayed as dissected meat around the room.
You can see more from this series at PIFO Gallery.
Cao Hui [PIFO Gallery via CAFA Art via rahzzah]