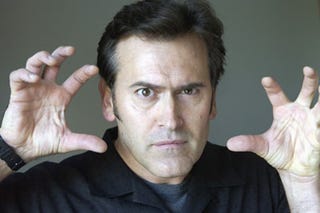 If Bruce Campbell's cameos in the Spider-Man movies always leave you wanting more, there's good news: America's favorite B-movie actor will have a larger role in the franchise's fourth installment.
Campbell told Access Hollywood that shooting for Spider-Man 4 will start in January 2010, and that he's been told he has a "major part" in the movie. Even Campbell doesn't know precisely what that role will be, but Access Hollywood notes there has been some fan speculation that Campbell could play master of illusions Mysterio — although those were rumors concerning Spider-Man 3.
/Film, on the other hand, speculates that the all the characters that Campbell has played are, in fact, a single character (one who has trouble holding down a job), and suspects that Campbell's "major" role means he'll be an important catalyst in the film rather than having more screen time.
Even if /Film is right that Campbell has been playing a single character throughout the franchise, that doesn't preclude a genuinely larger role for Campbell in the fourth movie, one that could shed light on his earlier performances. Is it possible that Campbell's character has been stalking Peter Parker since that fateful night in the wrestling ring? After all, he witnessed Peter's incredible feats of athleticism, and is the one who dubbed him "Spider-Man."