Comic book publishers have included digital download codes with single issue releases before — indeed, Marvel Comics announced yesterday that their Ultimate Comics line would come packaged with these codes.
But starting February 2012, Marvel will be the first comic publisher ever to offer this digital redemption package for graphic novels, and they're starting with their new-readers-friendly Season One books. io9 spoke exclusively with the publisher about this initiative to give readers both digital and bookshelf options.
Here's the long and the short of it — readers who purchase a Season One book will then be able to download a digital copy of the same graphic novel using the Marvel Comics app for iOS and Android or Marvel's Chrome site. Here's the Season One roster:
• Fantastic Four: Season One by Roberto Aguirre-Sacasa (Stephen King's The Stand Television's Glee) and David Marquez (Secret Warriors), on-sale in February 2012

• X-Men: Season One by Dennis Hopeless (Legion Of Monsters, Lovestruck) and Jamie McKelvie (Generation Hope, Phonogram), on-sale in March 2012

• Daredevil: Season One by Antony Johnston (Daredevil) and Wellinton Alves (Nova), on-sale in April 2012

• Spider-Man: Season One by Cullen Bunn (Fear Itself: The Deep, Sixth Gun) and Neil Edwards (Fantastic Four), on-sale in May 2012
G/O Media may get a commission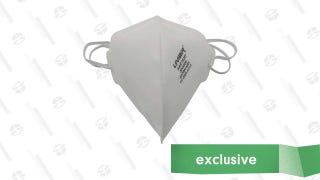 NIOSH CDC-Certified N95 Masks (10-Pack)
These books — which tell in-continuity stories about the early days of Marvel's foremost superheroes — represent the first wave of Season One graphic novels. The publisher's planning a second slate of Season One releases later in 2012.
On hand to discuss this new digital program were Arune Singh (Marvel's Director of Communications, Publishing & Digital Media) and Peter Phillips (Senior Vice President & General Manager, Marvel Digital Media Group). Singh noted that the most obvious benefit of this download option is greater flexibility for comic readers:
It's a very mainstream-friendly move we're making. So people may want to have the hardcover on their bookshelves, but they also may want the digital copy to read on the plane when they can't carry five or six graphic novels.
Phillips further mentioned that this digital/print program won't be a one-way street — Marvel is currently developing a program for future releases that will drive readers to their neighborhood comic shop:
One of the initiatives we're working on is that if you do a digital download, you can get a coupon to bring into comic shops that's worth the redemption of a print product in stores. Basically, it's our belief that print plus digital equals publishing. So we're using print to promote digital, digital to promote print. We're pushing it all because we believe they make up the totality of user experience.
Finally, I asked Phillips about both A.) future expansion of this joint digital/print program; and B.) if Marvel's considering using it for narrative experimentation, namely the possibility of using digital codes for separate, augmented reality story lines in graphic novels. Phillips said that gauging reader reaction will be paramount:
We're going out fairly aggressively because we believe in it and we're doing it for the consumers looking the ability to have the hardcover and the on-the-go [...] The short of it is, there's nothing that we haven't considered. We'd be considering it based on the feedback we get, so there's no definitive plan.
These are definitely some exciting developments for fans of the comic medium. The first Season One graphic novel — Fantastic Four: Season One — hits store February 2012.