Earlier this week we reported on the magnetic anomaly map of the world, and now there is evidence of a more pressing concern: carbon dioxide. Don't believe me? Consult the details of a recent collaboration between NASA and Caltech - Carbon dioxide rides about the world on warm atmospheric belts to threaten the ones you love. If you have any decency you'll click through and assuage the damage with us.
As the press release put it:
The AIRS maps also showed enhanced carbon dioxide over the Mediterranean, resulting from North American and European sources. Carbon dioxide from South Asia ended up over the Middle East, while carbon dioxide from East Asia flowed out over the Pacific Ocean.
In addition, the study reports that CO2 from the Southern U.S. is hitting the North Atlantic full force in atmospheric slipstream. How do we know this? AIRS (the Atmospheric Infrared Sounder) provides the key to understanding exactly how much of this vile participant in the life cycle lurks above our head. And apparently the hyperbole I have just provided you with is very much in line with NASA's thinking. As part of the NASA Jet Propulsion Laboratory team Moustafa Chahine described the situation:
"Carbon dioxide is difficult to measure and track. No place on Earth is immune from its influence. It will take many independent measurements, including AIRS, to coax this culprit out of hiding and track its progress from creation to storage."
G/O Media may get a commission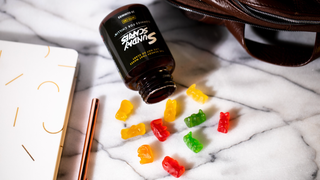 10mg CBD Gummies (22-Count)
Let's just hope Tim Kring doesn't get wind of this: the last thing Heroes needs is another character. Ready to take action? Rolling Carbon will calculate your growing part in the problem here.