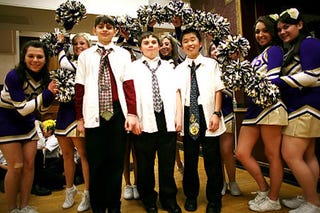 In one Brooklyn school, three nerds have become the coolest kids around, with cheerleaders announcing their entrance and the school band playing their theme song. What caused this to happen? We blame robots.
The kids - 12 year olds Simon Shkreli, Benjamin Kelk and Gregory Chin (along with recent graduates Richard Chian and Daniel Alvarez) - are St. Edmund's Elementary School's "Nerd Herd," robot fanatics whose LEGO-built robot won them the recent New York City FIRST LEGO League Robotics Competition, leading to their entrance into the international competition next weekend in Atlanta, Georgia. Surprisingly, perhaps, their win has brought a sense of unity and pride to the school, including raising $18,000 towards the trip. Oh, and the surreal reception they get from fellow students:
Cheerleaders waved their pompoms and the students formed an aisle down the middle of the gymnasium. "Nerd Herd, Nerd Herd!" they chanted over and over as the high school's band played Survivor's thumping "Eye of the Tiger," the herd's unofficial theme song. Simon, along with team members Benjamin Kelk and Gregory Chin, both 12, ran down the aisle, high-fiving their screaming fans, like they were playing in an all-star game or something... Serenah Nevarez and Michael Loseto, both fifth-graders, waved a giant poster that read "GOOD LUCK, NERD HERD!" "This is a great energy booster for the school," Michael said. Serenah chimed in, "They're so cool!"
Why wasn't the world like this when I was in school...?
Nerd Herd spurred on at cheering sendoff to represent city at international robot competition [NY Daily News]