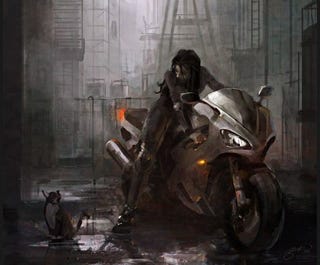 She may be cyborg whose consciousness is joined to her kinetically-intelligent cycle, bent on destroying all evil bionoids, but she still has time to make conversation with an alley kitten.
I love the apocalyptic sweetness of Goro Fujita's art, which often combines elements of high technology with nature. He's the sort of person who draws box-like robots admiring the sunset, and he isn't afraid to mix grotesquerie with cuteness. Born in Japan, Fujita moved to Germany when he was two-and-a-half. He's been doing concept art since he was a teenager, honing his skills with both 2D and 3D animation.
Late last year, he was hired as a Visual Development Artist at PDI/DreamWorks, and just moved to California to begin the new job. DreamWorks is lucky to have this guy, and I look forward to seeing his creations show up in their films. See more of Fujita's work in his gallery.