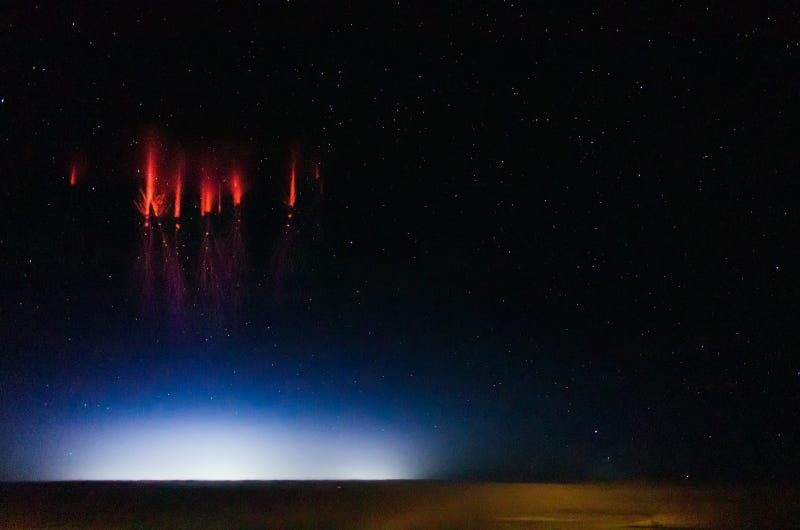 Jason Ahrns has had a very unusual summer. For the last several weeks, the University of Alaska-Fairbanks grad student has been studying sprites – a rare form of red lightning that appears high above thunderclouds. And he's been doing it from a plane.
Above: Sprites over Red Willow County, Nebraska, on August 12, 2013 // Photo Credit Jason Ahrns
Waiting for night // Photo Credit: Jason Ahrns
Ahrns is working with scientists from the Air Force Academy and Fort Lewis College on an NSF-funded study of the rare lightning. We first brought Ahrns' work to your attention a few weeks ago, with this stunning footage of sprites discharging at 10,000 frames per second. Ahrns and his colleagues have logged on the order of 30 hours in a Gulfstream V research aircraft (pictured above, the plane is on loan from the National Center for Atmospheric Research) in search of sprites. Along the way, Ahrns has been capturing photo and video of the strange phenomenon, and uploading it to his flickr photostream.
A "jellyfish" sprite over Republic County, Kansas, on August 3, 2013 // Photo Credit: Jason Ahrns
Smithsonian's Megan Gambino recently spoke with Ahrns over email and asked him all about sprites, how they form and how to find them.
From what I understand, not much is known about red lightning, discovered just 25 years or so ago. With the NSF project, what are you and the other scientists hoping to learn? What are the biggest questions you have?

With this campaign we're focusing on three questions. First, what basic physical and chemical processes are occurring? It's still not clear what exactly is happening in a sprite, and why there are different kinds of sprites, and what conditions give you a column sprite vs. a carrot sprite, for example. (All the sprite names just refer to their shape.) Next, do sprites have a large scale impact on the middle atmosphere? Sprites clearly represent some kind of transfer of energy, but is it on a scale that has a significant effect on the weather and climate? We can't answer that without studying them. And, then, what can we learn about basic streamer physics? The tendrils coming off the bottom of the sprites are 'streamers'—little balls of ionization—moving about. Streamer speed and lifetime is related to air density, so studying sprites in the very low density upper atmosphere is like looking at streamers with a magnifying glass in slow motion, though they're still quite fast!
Check out the rest of the interview over at Smithsonian.