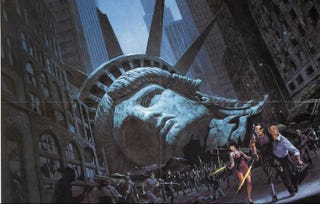 It's been a while since we last heard about a proposed Escape from New York remake, but alas, Hollywood can't keep its grubby hands off needless reboots for long. Deadline reports that not only is Joel Silver and Studio Canal planning on remaking John Carpenter's cult classic, but they plan on making it a trilogy, with the first movie a Rise of the Planet of the Apes-esque origin story.
As you might recall, someone already remade Escape from New York — John Carpenter, who made the almost identical to the original semi-sequel Escape from L.A., and it was terrible. And that was without a needless origin story, or trying to extend the plot into three separate movies.
Oh well. If this is the price of Hollywood leaving Big Trouble in Little China alone, then it's a price I'll gladly pay.