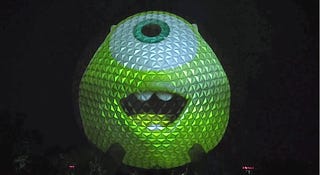 In celebration of Pixar's prequel Monster's University Epcot has transformed the famous Spaceship Earth ride into the giant monster Mike Wazowski. And animated it. It's pretty impressive.
For one night only Disney parks will keep their doors open for 24-hours. It's a Monster's University college style all-nighter. Just like that time in college when you took 18 NoDoz pills and rode the "Pirates of the Caribbean" 72 times in a row. Just like it. Here's the official press release:
On May 24, 2013, for one day and one night only, Guests on each coast will have the chance to spend 24 whole hours inside the Disney parks!

From 6:00 AM to 6:00 AM, enjoy all the monster-themed madness inside Magic Kingdom park at Walt Disney World Resort in Florida, as well as Disneyland park and Disney California Adventure park in California. From special entertainment and monstrous merchandise to frightening food and boo-verages, this "All-Nighter" is shaping up to be one scary good time!
And a video to show you Mikey's skills.
[via Laughing Squid]