Morning Spoilers
If there's news about upcoming movies and television you're not supposed to know, you'll find it in here.
Michael Bay explains just what's going on with the umpteenth Ninja Turtles controversy. Tom Hiddleston discusses Loki's future. Jack Gleeson reveals what's ahead for Joffrey on Game of Thrones. Plus Prometheus, Lockout, Awake, Once Upon a Time, Grimm, and more!
Spoilers from here on out!
Top image from The Amazing Spider-Man.
The Amazing Spider-Man
Director Marc Webb discusses the particular elements from the comic that he drew on to make his Spider-Man movie unique:
There's this story about Peter's parents and where he came from, and I thought that it was really interesting to explore the emotional consequence of someone whose parents had left them at a very young age. I like that Peter Parker has a little bit of a chip on his shoulder. In 'The Amazing Spider-Man #8' there's this moment where Flash (Thompson) and Peter are sort of going at each other. They're at a boxing match and you sort of hear what Peter is saying and he's a little surly and I like that, but there's this attitude, this sort of punk rock humor and trickster quality that I think probably comes from somebody who is a little distrustful of the world at times. In order for someone like that to become a hero, I think it's a really interesting story and that was something fun. It was really fun to explore, and then of course there's the Gwen Stacy saga, The Lizard. But I think what we tried to do was find something very emotionally grounded and that felt very real. That's a challenge when there's big lizards and soaring through the air, but that's what was really fun about it.
He also discusses — at length — just what they hope to bring out in the character of Gwen Stacy, as played by Emma Stone:
The way that Peter Parker eventually learns about sacrifice through Gwen Stacy, but in order to adequately learn that lesson you have to feel that really strong bond. Something for me I think in terms of what we set out to do with this relationship, specifically between Peter and Gwen, I mean, you remember, like, the first time that you meet a girl in high school and that you get to share things with that person that you might not have shared with any other people, that creates a bond and an intensity that I think has a lot of currency. When you get that opportunity to be honest and open with somebody for the first time and share things about yourself that you haven't been able to share things that you haven't been able to before, things that you might be scared of or ashamed about, that's really exhilarating, and I think that's something that people will really identify with. That was something that was fun about the relationship, and then in terms of Gwen as a character, she's really smart. She's got this scientific quality, and maybe you can speak more to this, but she's in sort of a weird position, stuck between the different men in her life.
G/O Media may get a commission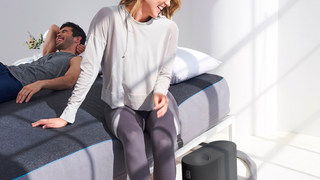 Eight Sleep Pod Cover
And Emma Stone herself weighs in on the character with an equally lengthy answer:
Yeah, her duty to her father and her duty to her boyfriend, because she's a real confidant for him. Their intimacy is such an incredible element, and I think that Gwen has been in control her whole life. She's the oldest daughter of a police chief, who is constantly terrified that her father is going to die everyday. She has to have an element of being smart because she has to be. She's a valedictorian because she has to be. She has to take care of things and be responsible for her family and I think that being able to let go and trust somebody who puts themselves in the face of death of everyday, too, that's like, great, now she's drawn to another person that could die at any moment and she has to keep his secret and pick and choose between her first love which is her father, of course, like every girl. That's the first man in your life and then her first boyfriend. So, it's a pretty complex situation for Gwen, and there's a lot of, I think, sadness and fear in her life combined with the fact that she's outwardly confident and strong and smart and takes no bullshit. She's soft and 17 underneath it all. There's a great source of drama, and Gwen is at the center of this in a lot of ways – there's competing ideas of what's good. These people, everybody's heart is in the right place, but they execute their plans in different ways and that goes for The Lizard and Curt Connors as well. Gwen in particular is stuck between [her father] the Captain and Peter Parker and Spider-Man who have different ways about going about finding justice in their lives. I think that's a really fun thing to explore in the movie.
Believe it or not, there's still more at the link. [Popcorn Biz]
---
The Avengers
We already know that Loki will survive, considering Tom Hiddleston has discussed his role in Thor 2, and his latest take on the character suggests he could well become the Marvel Universe equivalent of a recurring nemesis:
"We're responding to what people make of it, there's such a depth of layering in comics to his character. Loki goes on forever, it's a mythology, it goes deep. If we were allowed to make six films we could, we'll just have to see."
---
Prometheus
Here's a new TV spot.

This new cover of Empire shows star Noomi Rapace in her full spacesuit, complete with the just asking to be misinterpreted declaration that she is "The New Ripley!" Just in case there's any uncertainty at this late stage, Rapace's Elizabeth Shaw is just fulfilling the Ripley role in the movie but not actually reprising Sigourney Weaver's character. Check out the link for the photo. [Shock Till You Drop]
---
Lockout
Here's a new TV spot for the movie in which loose cannon federal agent Guy Pierce saves the President's daughter (Lost's Maggie Grace) from rioting inmates on an outer space prison. [Coming Soon]

---
Seeking a Friend for the End of the World
Here are some photos for the pre-apocalyptic comedy starring Steve Carell and Keira Knightley as two neighbors taking a road trip in the final weeks before a giant asteroid obliterates life on Earth. [MTV Movies Blog]
---
Snow White and the Huntsman
Here's an actually decent quality version of one of the TV spots we showed yesterday. [Coming Soon]

---
Ninja Turtles
Continuing his recent streak of, if not exactly being the voice of reason, at least being the voice of "let's all just chill out, bros," executive producer Michael Bay took to his official website to confirm and explain the rumored decision to drop "Teenage Mutant" from the title:
Paramount marketing changed the name. They made the title simple. The characters you all remember are exactly the same, and yes they still act like teenagers. Everything you remember, why you liked the characters, is in the movie. This script is being developed by two very smart writers, with one of the original creators of Ninja Turtles. They care VERY MUCH about making this film for the fans. Everyone on this team cares about the fans. Just give them a chance. Jonathan [Liebesman] the director, is a major fan of the whole franchise. HE'S NOT GOING TO LET YOU DOWN.
[/Film]
---
Carrie
Hugo and Let Me In star Chloe Moretz has reportedly been offered the title role in Boys Don't Cry director Kimberly Peirce's new adaptation of the Stephen King story. However, Moretz hasn't actually accepted the part yet. [Deadline]
---
Doctor Who
Newly announced companion Jenna-Louise Colman reveals just how little she knows about her character, so don't bother pestering her about it:
"I have an idea of the story, of the character and of a few surprises, but I don't know her name or where she's from. I just told Steven [Moffat] and [producer] Caroline Skinner, 'Don't tell me anything until I need to know it.'"
---
Fringe
Here are a few promo photos for this week's episode, "Nothing As It Seems." [Fringe Files]
Here's a short description for episode eighteen, "The Consultant", which airs April 13:
WALTER GOES TO THE ALTERNATE UNIVERSE ON AN ALL-NEW "FRINGE" FRIDAY, APRIL 13, ON FOX

Walter travels to the Alternate Universe to assist in the investigation of a Fringe event with ties to both worlds. Meanwhile, David Robert Jones reveals his next target.
The titles for episodes twenty through twenty-two, the season's final three episodes, are reportedly "World Apart" and then "End Game" parts one and two. [SpoilerTV]
---
Game of Thrones
Joffrey actor Jack Gleeson — who I feel it's worth pointing out is by all accounts one of the nicest guys in the world, even though he's phenomenally good at playing an utter creep — reveals what's ahead for the teenage king this season:
"With his coronation, his malicious deeds amplify tenfold. He thinks everyone should say yes to him 'cause he has the right to be where he is, so he doesn't take no for an answer. There are scenes where I just do malicious things for no reason. I kind of rebel against [my mother Cersei]. I'm changing up the design of the Throne Room and kind of throw my toys all over the floor.
[EW]
---
Awake
Here's a teaser for this week's episode, "Oregon":
Michael has done his best to keep his double life a private matter between himself and his therapists, but after he becomes a suspect in a murder investigation, the secret gets out... and into the wrong hands. Let's just say this is a case that won't be wrapped up with just one episode, and it puts Michael's whole delicately balanced existence into serious jeopardy.
[Zap2It]
Here's a brief description for episode eight, "Nightswimming", which is set to air April 19:
Detective Britten helps reunite and prepare a couple for a new life in the witness protection program; an introduction between Detective Vega and Britten's longtime informant doesn't go smoothly.
---
Once Upon a Time
Captain America actor Sebastian Stan will reportedly make two more appearances this season as the Mad Hatter. [E! Online]
---
Grimm
Here's a teaser for this week's episode, "Island of Dreams":
[It] marks the return of the elusive, persistent Hexenbeast (played by Claire Coffee), as well as the introduction of a new recurring character named Rosalee (Bree Turner), a Fuschbau (fox-like creature) who poses a threat to Nick by forming a close relationship with someone in his inner circle. Elsewhere, Monroe continues helping Nick by going undercover to a Wesen crack den!
[TV Line]
Here's a short description for episode eighteen, "Cat and Mouse", which is due to air April 20:
Nick discovers that Monroe and Rosalee are harboring a murder suspect (Neil Hopkins) whose crime spree began overseas.
Jericho actor Kevin Mitchell will reportedly appear in episode twenty-one as a Wildermann, described as a Sasquatch-like creature whose alter ego Larry "struggles with self control issues, which causes him to be stuck between his human self and his creature self. Not helping matters is the pain from the device inserted into his neck that leads to his mental breakdown." [TV Line]
Joining him in the episode will reportedly be Revenge actor Roger Bart, described as a fellow Wildermann who looks like Grizzly Adams.
---
Touch
Here's a sneak peek for this Thursday's episode, "Safety in Numbers."

Here are some promo photos for episode five, "Entanglement", which is due to air April 12. [SpoilerTV]
And here's the official description for the episode:
MARTIN CONNECTS WITH A WOMAN AVENGING THE DEATH OF HER FAMILY ON AN ALL-NEW "TOUCH" THURSDAY, APRIL 12, ON FOX

Martin gets his laptop stolen on the day Jake is scheduled for an important evaluation. As a result, he becomes ensnared in a young Salvadoran woman's quest to avenge the death of her family. Meanwhile, Teller (guest star Danny Glover) tries to reconnect with his estranged daughter. Also, a spirited Saudi Arabian girl tries to break free of the societal constraints imposed on her and a Montreal doctor attempts to meet a stranger on a train
---
Revolution
David Lyons, who I don't have to tell any of you was The Cape on The Cape, will reportedly take time out from getting the show those remaining five seasons and a movie to star in J.J. Abrams and Supernatural creator Eric Kripke's show set in a world where all forms of energy have mysteriously vanished. He will reportedly play Bass, a role originally meant for Twilight's Billy Burke before Burke was given the lead role instead. I should point out that the show is actually no longer called Revolution, but it's as good a placeholder as any until we get a new title. [TV Line]
---
Terra Nova
Looks like we can officially retire the Terra Nova tag, as Netflix has passed on the opportunity to pick up the show, probably because there was not a single conceivable logical reason why they would ever want to do that. Actually, judging by Netflix's recent decision-making, logic probably had nothing to do with it. Still the right call though. [Den of Geek]
---
American Horror Story
An inside source says the second season will not be set in a prison, as has been rumored. Actually, I thought the main rumor was some sort of mental institution, and I don't think this report even rules that possibility out. [TV Line]
---
Being Human (UK)
Series creator Toby Whithouse has revealed a couple more details for the show's recently announced fifth season — first, it will be only six episodes long as opposed to eight, and second, Lenora Crichlow will indeed not be returning as Annie. [Digital Spy; thanks to Spoogy for the tip!]
---
Falling Skies
Here are some cast photos for the second season of TNT's alien invasion show. [SpoilerTV]
And here's a video with the cast running down all the big unanswered questions for season two.

---
The Vampire Diaries
Here's a sneak peek for this week's episode, "The Murder of One."

And here's a promo photo. [SpoilerTV]
Sara Canning will reportedly return as the deceased Aunt Jenna in the third season finale, albeit only in pre-demise flashbacks. [Zap2It]
---
The Secret Circle
Here's a sneak peek for tomorrow night's episode, "Sacrifice."

---
Arrow
Bold and the Beautiful actress Jacqueline MacInnes Wood has reportedly been cast as Dinah Laurel Lance's sister Sarah in the CW's Green Arrow pilot. It sounds like the character will mostly just appear in flashback sequences and, reading between the lines, will probably be dead before the end of the episode, though that's just supposition on my part. Feel free to judge for yourself at the link. [KSiteTV]
---
Lost Girl
Emily Andras, who has written six episodes over the first two seasons, has reportedly been promoted to showrunner for the third season, and it is currently unclear if creator Michele Lovretta will return. Season two head writer Steve Corchane is reportedly expected to return for season three. [SpoilerTV]
---
Additional reporting by Jennifer Griffith-Delgado and Charlie Jane Anders.