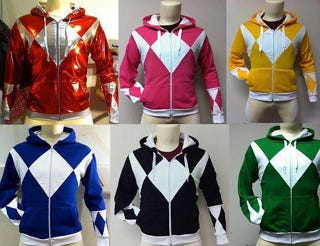 Once upon a time, my brother and I entered a Power Rangers/VR Troopers trivia contest on Prodigy. TV junkies that we were, we handily answered all the questions, but, sadly, when our names came up in the drawing, we received the inferior VR Troopers action figures instead of the much cooler, dino-centric Power Rangers dolls. It's probably a good thing that my 13-year-old self didn't have access to one of these custom-made Power Rangers hoodies, or she would have spent the next four years dressed as Trini.
For $85 plus shipping, Power Hoodiez will make you the Ranger sweatshirt of your dreams, in any colors you may want. Looking for gold lining? An all-metallic jacket? Your hoodie can be as flashy or as (relatively) sedate as you'd like. You can email orders@powerhoodiez.com to place your order.
I suppose we'll have to forgive Power Hoodiez the terrible "z" in their name, since it looks like they put out a pretty nice product. One satisfied customer offers his testimonial below:
I just wish he'd given us one good "It's morphin' time!"
[Power Hoodiez via Fashionably Geek]