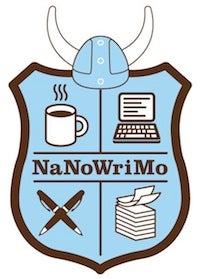 Have you been waiting to start that novel you've been developing in your head? Wait no longer! November is National Novel Writing Month, the time when people from all over the world try to bang out 50,000 words of prose in 30 days. And just because we're three days into the month, that doesn't mean it's too late to get started.
If you haven't tried NaNoWriMo before, I highly recommend giving it a shot. The month-long writing sprint is a great way to get yourself into the habit of writing every day: on your lunch break, while you're getting dress, first thing in the morning, and last thing at night. And if you haven't written a novella-length text before, you learn a lot about the process of writing and storytelling along the way.
You can get yourself set up with an account on the NaNoWriMo website; it's a handy way to keep track of your progress, plus you can interact with other equally frazzled novelists on their bulletin boards and find group writing sessions in your area. If you need further inspiration and encouragement, you can also follow the NaNo Twitter feed and the Office of Letters and Light Blog.
Stumped on where to begin? You can pull a story germ from TheIdeaBird and once our servers are back online, you can comb through our Concept Art Writing Prompts. The NaNoWriMo Prompts Tumblr can be a handy way to add depth to your writing. (I'm also rather partial to Anthony "Nedroid" Clark's off-kilter NaNo prompts.) And if you decide to polish up your piece once the month is through, you can check out our writing advice column.