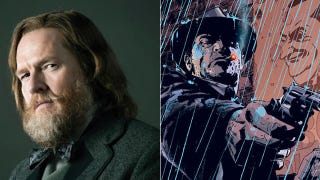 And here's the best casting news for Fox's Batman-less Batman show so far: the extremely talented Donal Logue will play Detective Harvey Bullock, joining Ben McKenzie as Jim Gordon, and all these people. I don't know if it'll make up for a 12-year-old Bruce Wayne, as some rumors report, but it's a start.
Here Bullock's official character description for the show:
"Jim Gordon's partner and mentor, the rough-around-the-edges Detective Harvey Bullock plays loose with police procedure, but he gets results … and he does it with old-school, forceful panache.
Logue has played countless "rough-around-the-edges" cops in his career, so I imagine he'll fit into the rather role nicely.
[Via Comic Book Resources]