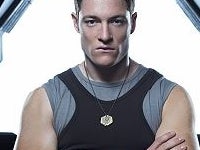 Fans of Battlestar Galactica's Tahmoh Penikett - the overly-sensitive toaster-lover Helo - shouldn't worry about him disappearing from their scifi screens when that show's final episodes air. He's one of a number of actors who've just been announced for Joss Whedon's new Dollhouse series, set to premiere in the fall on Fox.
Penikett will play Paul Smith, the FBI agent who investigates and acts as quasi-love interest for series star Eliza Dushku. This should give him ample opportunity to do that jaw-clenched "I am a good man in a bad situation" thing that he does so well. The two of them will be joined by relative newcomers Enver Gjokaj and Dichen Lachman, both of whom will play Dushku's fellow programmable "dolls," and Fran Kranz, survivor of both The Village and Welcome to the Captain, taking Whedon's traditional geek savant position.
Dollhouse has a seven episode order, and is expected to begin in the new fall season.
Joss Whedon's 'Dollhouse' gets more cast [Hollywood Reporter]