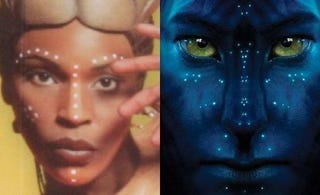 We keep seeing the banners for James Cameron's Avatar around San Diego, and the sparkly blue alien face has started to remind us of another iconic poster we've seen around. Is there a secret connection between Avatar and another franchise?
Yes, the musical version of Disney's The Lion King is coming back to San Diego, and we keep seeing this poster everywhere:
Compare with the Avatar banners, which are also all over town:
Are we completely delusional to be seeing a similarity here? Maybe it's the sequins on the face, the shiny face paint, or the lion eyes and nose, but there's just something there. Obviously it's time for someone to write some Simba/Neytiri crossover fanfic. But actually, Meredith pointed out there's someone else the Avatar aliens totally remind us of:
That's right, the cat nurses from Doctor Who's "New Earth" episode. How did we not see it before?