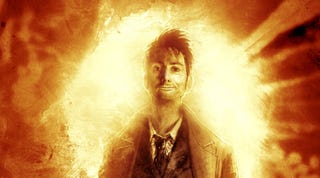 If you enjoyed IDW's recent Doctor Who: The Forgotten mini-series, you'll be happy to hear that its writer, Tony Lee, will be taking on the character on an ongoing basis soon for a monthly series.
Announced at yesterday's IDW panel, Lee said that he'd presented the BBC with "a massive six thousand word pitch" about the new series, complete with his reasons why he didn't want to use any of the existing companions, but instead come up with his own:
If you do a new Martha story everybody knows how it ends [but w]ith new companions, you can do things people don't know.
That said, Lee plans to make sure you'll see familiar faces throughout the series, whether they're old-school aliens from the original series, or real life figures (The series' first story will guest-star Charlie Chaplin). Some familiar faces you won't see in the new series, however, will be former incarnations of the Doctor himself; the BBC have forbidden any more use, citing issues surrounding actors' likenesses.
The new series will launch in July.