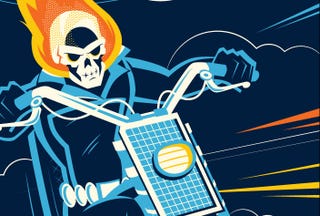 Doctor Strange and Ghost Rider, two of Marvel's most mysterious and frightening heroes, have been given a bright update in a new pair of posters by artist Dave Perillo and Grey Matter Art.
Perillo's jovial, simple yet distinct style is one fans may recognize from his work with Mondo, The Simpsons, The Beatles, Gallery 1988, Disney, Dreamworks and many more. He's no stranger to Marvel either, having done a few similar posters in the past for Spider-Man, Iron Man, the Hulk and others. These Doctor Strange and Ghost Rider posters are 12 x 24 inch screenprints each in an edition of 225. They'll cost $45.
Both posters are officially licensed by Marvel and will go on sale at Wednesday, July 1 between 1 and 2pm EST on www.greymatterart.com.
Fun side note, Scott Derrickson tweeted the Doctor Strange poster Tuesday. He's directing the upcoming Marvel film starring Benedict Cumberbatch, which is scheduled for release November 4, 2016. If he approves, I think the poster is a winner.