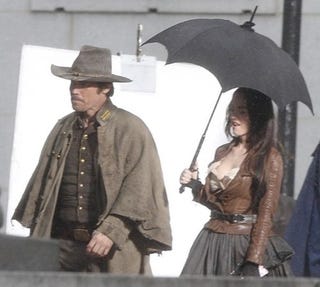 It was rumored that the Jonah Hex reshoots were required to add additional characters to the film, but the latest set pics make us think that Megan Fox's hooker-with-a-heart-of-gold role has been fleshed out.
The latest crop of Hex set pics show Josh Brolin and Megan Fox in their fantastic Western attire standing under a Tim Burton-meets-Tombstone umbrella. Fox has previously mentioned that her role was "basically a cameo" but her presence in these reshoot images seem to imply otherwise. We're okay with it ,as long as she doesn't get as much screen time as Jonah himself. But the more slutty period gear, the better.
Speculation aside, the reshoots appear to be finished as recent Hex actor, Michael Papajohn, twittered that he was readying for the wrap party this past Sunday.
[via Spoiler TV]