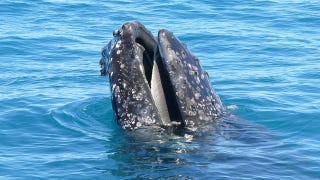 Baleen is part of a unique filtration system that allows enormous whales to live off of relatively tiny creatures. Baleen plates are often shed by a whale or released after their death, and harvested for use in art and consumer goods. As you can imagine, baleen harvesting was widespread before the 20th century, but it's also still being used today.
What Is Baleen?
Baleen whales lack teeth, so they draw enormous amounts of water into their mouths and quickly push it out through a baleen plate filter to feed. Krill, plankton, and fish are left behind, with an unlucky bird sometimes found amongst the soon-to-be lunch.
Baleen is made of keratin — the same molecule from which fingernails, tortoise shells, and hooves are created. A baleen plate latches onto the upper jaw of the whale, with the plate often upwards of ten feet tall in a fully grown whale and weighing more than two hundred pounds. A single whale can go through several hundred baleen plates in a lifetime, as the baleen plate eventually wears away in segments or cracks.
18th Century Plastic
Along a baleen plate are hundreds of individual "sticks" of baleen, with these sticks being the portion used to create commercial items through history and now, pieces of art. In the past several centuries, fishermen targeted whales, as the baleen provided a high income commodity to complement whale oil.
By pulling off the individual sticks of baleen from a baleen plate, craftspeople could make use of the flexible, but strong properties of treated baleen similarly to how we use plastic.
In the dawn of the Industrial Age, the strong, but malleable nature of baleen led to its use in a variety of common goods. Individuals often crafted bows out of baleen and tipped the ends of whips with the keratin-based material, while a burgeoning fashion industry used baleen in super tight corsets, as a structural component of hoop skirts, and even in umbrellas.
Baleen's ability to be shaped into almost any form after a period of heating or soaking allowed for an interesting application — the use of baleen to create high quality eyeglasses. Mariners also used baleen to outfit a number of luxury items, including telescopes, and often inlaid baleen on the gigantic wooden wheels that steered ships across the sea.

Is Baleen Legal Now?
The sale of baleen is legal, but only under a handful of circumstances in the United States. Baleen is no longer legal for use to create commercial goods in most countries, but then again, we have considerably more versatile (and cheaper) alternatives with which to fashion eyeglasses, corsets, and umbrellas.
Within the United States, only individuals who can prove they are a minimum of one-quarter Alaskan Native can sell baleen-crafted items, and then only as "Authentic Native Articles of Handcraft." The most common native works appearing for sale are woven baleen baskets, baskets that often retail for $500 to $3000 These tiny, ornate constructs are made after soaking the baleen in water for an extended period of time until it is able to be woven. Baleen used for artistic purposed is often dyed a deep black color in order to create a uniform appearance.

Individuals selling baleen are watched closely for infractions, with the 2005 raid of a store inside an Anchorage mall resulting in the seizure of $50,000 worth of baleen.
In addition to retail restrictions, transporting legally purchased baleen pieces or art crafted from baleen across international borders often leads to confiscation, making for a variety of problems when one purchases baleen craft work in Alaska and brings their prize into bordering Canada by land.

The top image, courtesy of Andy Nunn/Flickr, shows a humpback whale showing off its baleen plate. Image of a baleen plate washed ashore by Ben Salter /Flickr. Corset image is from the Victoria and Albert Museum. Image of baleen eyeglasses is from Antique Spectacles. Image of baleen basket via jomilo75/Flickr. Sources linked within.