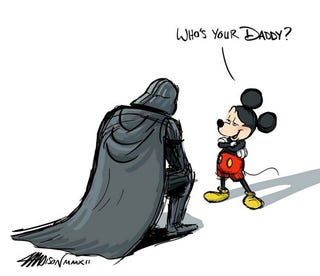 After a hefty amount of speculation on what inspirations Disney and Lucasfilm would use for the plot of Star Wars: Episode VII, the latest reports claim the new movie won't be based on any existing source material. Forget Timothy Zahn's Thrawn Trilogy , the video games and the graphic novels. The next Star Wars is a brand new story.
EOnline is reporting from a source inside Lucasfilm that Episode VII is an original story that we've never seen before. Does "original story" mean all new characters, set in the same universe? Or does it just mean a new version of what happens to the characters we know? Also, it appears as though the treatment that Disney purchased for the new trilogy was written by none other than George Lucas himself - as his last act before stepping away from the series.
The unnamed sources are also debunking rumors that various directors are attached to the picture - nobody has been signed up to direct just yet.
Image by Austin Madison.